New Body Old Soul
(Amarillo Globe Times, September 20, 1998) By Mary McIntire
Abstracts, nudes and otherworldly phenomena abound in "New Body, Old Soul: A Meeting between Two Worlds," a show at Carey McDuff Gallery of Contemporary Art, 508 S. Bowie St.,
featuring works by Mardy Lemmons and Herman Gabriel.
New Body
Lemmons displays intriguing textures in "An Aging Artist's Hopes and Dreams Falling by the Wayside," a nude derived from several watercolor canvases with which the artist had been dissatisfied. In a spurt of inspiration, Lemmons tore the canvases, plastered them back together, and then painted over his creation with a turpentine and oil wash. The resulting effect is a masterful presentation of depth as the observer can peer into the cracks in the canvas to catch glimpses of other paintings. Lemmons explores vast avenues of texture using turpentine and oil washes, turpentine and pastel washes, plaster and gesso. He even enhances a gold frame with black polyurethane.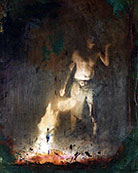 In "Shaman," a mixed media photographic collage, Lemmons exhibits a snapshot of a shirtless cousin holding a torch in preparation for a backyard fire-breathing performance. Rather than manipulate the photograph, he elects to deftly paint over it, transforming his bare-bellied cousin into a breathtaking representation of a holy man. Flesh tones are reminiscent of Rembrandt, and the fire is mesmerizing. The observer is hard-pressed to decipher where photo ends and paint begins.
Old Souls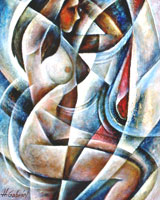 Born in the late 1800s, Herman Gabriel achieved the distinction of "Best Landscape Artist in Michigan" in the late 1920s. Gabriel moved to Colorado during World War II and created mystical paintings attained through intuitive visions. Although the works were completed in the 1940s, this is the first unveiling of them. Thankfully, Bea, Gabriel's widow, decided to give Amarillo the privilege of having that first peek.
In pastels, oils and charcoal, Gabriel expresses a sense of veneration. As one gazes more intently into each work, one is drawn repeatedly to the eyes of the subject. So realistic are the eyes that one half-expects them to blink. "Isis,"a pastel, is shown beautifully above an elaborate Egyptian shrine designed by Egyptologist P. Timothy Mohler. Also, a pencil sketch of Walt Whitman is particularly wonderful and accurate.
Mary McIntyre received the Army Commendation Medal for reporting and analysis work she did in Germany during Desert Storm. A founding member of local poetry troupes Calliope's Breath and P.H.R.A.N.C., she has facilitated numerous poetry readings in Amarillo. She was awarded an honorarium from the Texas Commission for the Arts through Barnes & Noble in 1997.